Develop realistic rigs ready for gaming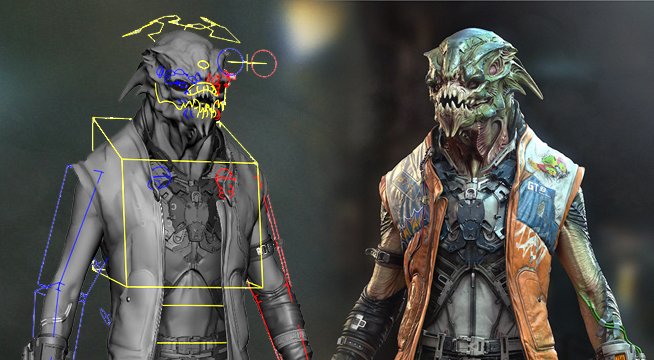 This course is all about creating robust engine agnostic rigs. We will tackle thinking in components, as well as the possibilities of scripting to improve and automate workflow. We will also focus on the ability to reverse engineer existing rigs and being able to debug/anticipate problems. Students enrolling in this course will be provided a model from the instructor, but are encouraged to use their own models to make their portfolio stand out more.
Note
: If using your own character, they must be a bipedal character, but if you would like to challenge yourself quadrupeds or monster-like (has legs, arms, and a torso) characters are allowed.
Registration Period
Jul 19, 2023 - Nov 30, 2023
Course Start
Sep 29, 2023
Assignment
Due each week. Expect to spend 10-20 hrs/wk viewing lectures, Q&A, and time on assignments.
PREREQUISITES
A basic understanding of rigging and scripting will help but is not necessary; basic knowledge of Maya is expected.
The more you know, the better.
The differences between joints and transforms | Constraints and vector math | ikSCSolver vs ikRPSolver | Controller creation, explanation about shape nodes
Week #2
Component Rigging 1: Legs
Simple ik leg setup | Reverse foot chain | Advanced footroll mechanics | No-flip ik | Discuss hind leg setup (creatures)
Week #3
Component Rigging 2: Arms
ik & fk arm | Blending + discuss space switching | Fingers | Clavicle setup
Week #4
Component Rigging 3: Spine & Head
Ribbon spine vs spline ik | Simple head | Local to global manipulation | Discuss squash & stretch
Week #5
Rig Clean-up & Additional Helper Joints
Connecting components together | Creating roll-joints for arms and legs | Helper joints | Colors and naming
Week #6
Clean Skeleton for Engine Integration
Segment scale compensation & scale | Rig component skeleton vs clean export skeleton | Python scripting + discuss how to automate the rigging process
Maya skin bind options | Weight painting | Using skinning tools
Week #8
Final Steps: Debugging and Reverse Engineering a Rig
With the knowledge learned from this course, see if students know how a rig works when looking at the connections | Understanding why a problem might exist and how to solve or prevent it | Finalizing rig

What makes this learning experience unique?
PERSONALIZED FEEDBACK
Receive personalized feedback on all assignments from the industry's top professionals.
LIFETIME ACCESS
Enjoy lifetime access to the spectrum of course content, including lectures, live Q&As, and feedback sessions.
CERTIFICATION
Show off your Certification of Completion when you turn in 80% of course assignments.
FLEXIBLE LEARNING
Learn anywhere, anytime, and at your own pace with flexible, online course scheduling.
Testimonials
The instructor is clearly an incredibly talented professional. Transferring his knowledge to other learners/students/professionals in different disciplines requires improvement.
Gordon
Perry is extremely well advanced in the material he covers throughout his course, and very helpful in resolving any student issues via feedback. I highly recommend his course.
Shawn
The course really helped improve my technical knowledge of rigging. It further solidified my understanding of why certain things work rather than just showing how to do it.
Patrick
The course was a pretty big part in updating my skills to allow me to get in the door for a few interviews so far for rigging.
Luke
Need guidance? We're Here to Help.
We can help with admissions questions, portfolio review/course recommendations!
What are you interested in?